Bespoke Furniture
Allow us to design and make your perfect piece of furniture...
Although we have the UK's largest stock of classical furnishings, sometimes it may be hard to find exactly what you're after. Discuss your requirements with any of our experienced consultants who will be able to assist with any recommendations. Inclusive techincal drawings are supplied for every commission for confirmation.
This kidney shaped desk was made to our customer's specification to accommodate a wheelchair in the kneehole.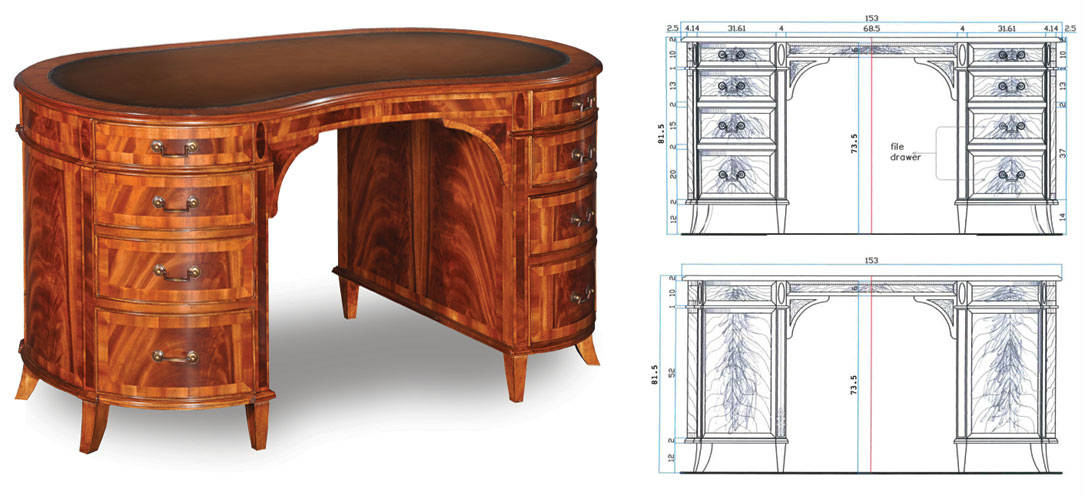 The coffee table and nest of tables below were redesigned for our customer based on models in our current range, to their required size with revised leg. They were pleased knowing they had individual quality furniture fulfilling both individuality to their exact requirements.
"We are extremely pleased and satisfied with the tables and visitors continue to be impressed with the quality of the furniture." - David Spooner

Draughting Service
We have a classicaly trained freehand draughtsman available for concept sketch visualisation, design and hand drawn detailing. With vast experience in period interior design consultantancy, this service is extremely effective for custom design and suggestions to work in your setting. The draughting service is chargeable.