A New Arrival of Pure Silk, Handwoven Rugs - A Year in the Making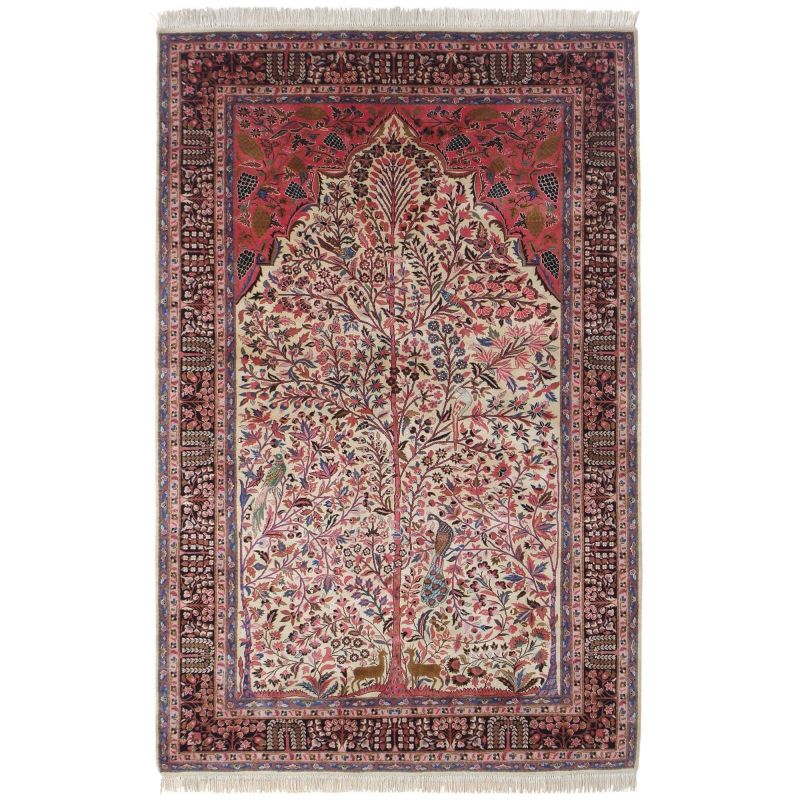 Today, there are very few families in India who share the skill, knowledge and means required to handloom traditional silk carpets to the exquisite level of richness, detail and fine quality that have, throughout history, become an integral part of the culture of India and of many other Asian nations. As a result, the finest quality silk carpets which adhere to traditional designs and craftmanship, can be extremely difficult to obtain.
Despite these difficulties, Brights of Nettlebed is dedicated to preserving and supporting the passing down of skills through generations, which enable us to present our clients with unrivalled, historic and ethically produced products.

Handloomed, 100% Pure Silk Rugs
Handloomed carpets are the most highly prized in the world, not only because of the incredible history behind them, but because of their superior quality and the sheer amount of time and labour which goes into their creation.
Made by weaving yarn through a backing cloth and then knotting the strands together by hand, a handwoven rug is an important investment piece which can be expected to last far longer than any other kind. Handwoven rugs are especially sought-after, as this fabric is considered the most fine, lithe and strong. The handweaving process and the use of silk come together to create a luxurious rug which is guaranteed to be treasured for many, many years.
The pure silk in Brights of Nettlebed?s handwoven rugs draws attention to the details by catching light and adding definition to elaborate, traditional designs. In addition to creating luminosity, these reflective qualities also cause the carpets to feel irresistibly soft and luxurious.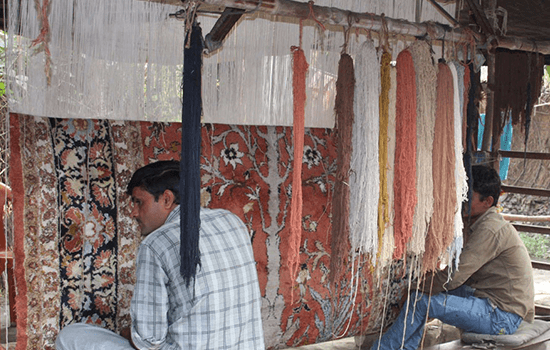 How Our Silk Rugs are Made
When partnering with the founders of the Indian leg of carpet-weaving charity, Care and Fair, Brights of Nettlebed?s directors personally visited India. Following the entire process, from concept to completion, Robert and Henry Stamp were present for the silk selection stage and even travelled by motorcycle with the fabrics when they were transported to the villages where the specialist weaving families live. Here, they visited the medical and aid facilities set up by Care and Fair and observed the difference that the charity has made to these families? living and working conditions. This journey was also an opportunity to observe how the weavers work and the rigorous checks that go into ensuring there are 250 knots of silk per square inch. As further assurance to clients, rugs are still independently tested on arrival in the UK to ensure 100%  silk content and density of knots per square inch.
One of the issues facing any rug retailer is the human rights of workers. The distressing fact that poor conditions and child labour are still major problems in the rug weaving industry was the driving force behind the decision to collaborate with Care and Fair. This charity is focused on providing heath care and education to carpet-knotting families and goes to great lengths to ensure that no children are exploited. The charity works to fund schools, education and health programs which raise the living standards and employment opportunities to communities across India, something that Brights of Nettlebed have experienced first-hand.
The creation of each of Brights of Nettlebed?s silk carpets is an incredibly precise and detailed process. Entire families work from their homes, in small villages which are linked together and share medical facilities.
The silks used are very carefully inspected before selection and then transported by motorcycle to the homes of the weavers. There, they are spun into stunningly-designed pieces at a knot density of 256 knots per square inch (another feature which is rigorously tested and checked). It comes as no surprise that this extensive, labour-intensive process takes a very long time to complete which is why our new collection of rugs, which have just arrived, have been more than a year in the making.
Brights of Nettlebed?s Brand New Range of Silk Carpets
With their richness of detail and high knot density, Brights of Nettlebed?s pure silk rugs can be considered among the most beautiful and exclusive options available. The new collection, displayed in our Nettlebed showrooms, are made after important designs from history.
One example from these new arrivals is the Kashan pure silk carpet (pictured). Kashan is located in the heart of the central Iranian Isfahan province, one of Iran?s oldest cities. Kashan rugs have been produced here since the rule of the Safavid dynasty of the 17th century. The style of Kashan carpets is immediately recognisable and believed to be one of the most striking of all classic Persian rugs. Almost always deep shades of red with ivory borders and green/ blue jewel tones flecked throughout, Kashan rugs typically depict the classic Tree of Life design.
The Tree of Life is a truly iconic image with deep spiritual and historic meaning, which has been a focal point of Asian rugs for several centuries. Our Kashan Persian rug has an ivory coloured mihrab, dominated by a large tree of life which stands in the centre of the field, flanked by two deer and by two small trees at either side. The colourful blossoms and flowers spout form the asymmetrically arranged branches containing five inconspicuously placed exotic birds. The spandrels of the mihrab are drawn as grape vines. The main border contains repeating unusual tree shapes accompanied by a floral vine minor border.
This is just one of our assortment of pure silk rugs. Each one comes with an enriching legacy of meticulous, ethical production and a breath-taking style, filled with rich and vibrant character. These carpets not only make for a beautiful addition to any interior but also hold the potential to become prized heirlooms- treasured by the most discerning connoisseurs and collectors.