Bespoke hand carved mirrors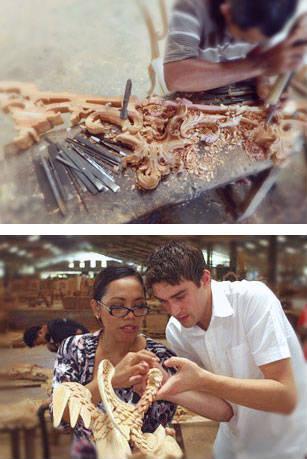 Brights of Nettlebed have a particular affinity with antique mirrors: Our patrimony stems from Biggs of Maidenhead, an antique dealership established in 1866 and contributors to the publication Queen Anne & Georgian Looking Glasses, by F. Lewis Hinkley. Many of the antique mirrors which passed through Biggs' books are now in Brights' archive, and many designs are based thereon along with mirrors at auctions by Sotheby's and Christies over the past 20 years.
Our bespoke mirrors are made to the highest standard in one of the very few areas of the South Pacific where artisan carvers can still be found - Many have been forced to move into bigger cities to work in factories mass producing cheap reproduction furniture. The tradition of carving in this area of the world is one which is culturally and religiously ingrained. It is thought that the subsequent tradition of gilding may have originated in this area of the world at the start of the 17th Century, when the country was colonised.
An affinity for mirrors
Henry Stamp, director, has a real affinity for mirrors and draws on inspiration from his Great Uncle's involvement with important antique mirrors, reigniting the passion with a hands on approach (shown right).
For all bespoke work our draughtsman specifies to the required design and size making any necessary alterations or suggestions. This drawing is presented for approval before creation, during which Henry personally oversees a small team of carefully selected artisans to ensure quality and consistency is achieved.
Below is an original photograph of a Thomas Chippendale mirror alongside our hand carved and water gilded reproduction mirror made to a bespoke size.

Mirror commissions can be taken in any size, traditionally hand carved in mahogany, with or without bevelled glass and finished using a variety of methods
Oil gilding
Oil gilding is used for general decoration and, with appropriate preparation, can be applied to most building surfaces, both indoors and out. Gold leaf (usually immiation gold leaf known as Dutch metal) is applied onto an oil size brushed onto a painted or prepared gesso surface. Due to the even matt finish produced by oil gilding, limited variations in the finish can be achieved.
Water gilding
Water gilding is a more elaborate process requiring greater preparation, but its elegance and refinement of finish are unsurpassed. A number of coats of gesso are applied to the wood to produce a very fine smooth surface. Any detail lost due to the application of gesso is re-carved along with any further refinements to the design. Gilding clay, or bole, is custom mixed by our craftsman and applied in different coloured coats to achieve the desired finish as it will tint the 23 carat gold leaf once layed using a water/achohol mix. Water-gilded pieces can be given contrasting finishes to enhance the design by distressing to expose the bole beneath, or by brightening areas with an agate burnisher.
Below, we show examples of water gilding demonstrating the 'bright and matt' effect achieved with water gilding and the refinement achieved by our skilled carvers.
Custom finishes including hand painting and chinoiserie are also available and are extremely effective when combined with gilding.
To discuss your requirements please contact your nearest showroom.