British K2 Telephone Boxes and Type B Letterboxes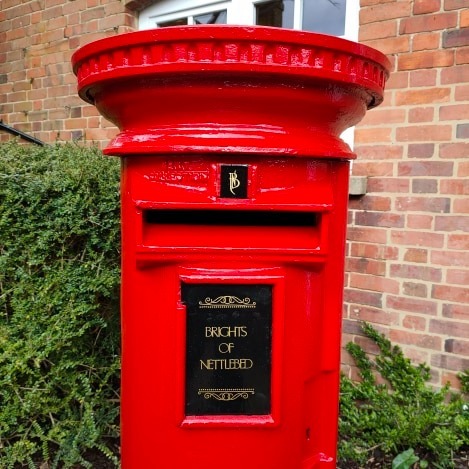 Tucked way in the scenic gardens of our Nettlebed showroom are two examples of iconic British design: the traditional red telephone box and letterbox. Both of these original antiques are showstoppers at our Nettlebed showrooms and are recognisable to visitors from all around the world. Keep reading to discover more about these historic items.
Red letterboxes and K2 telephone boxes represent the living history of British culture, having been a part of everyday life over the past century as well as examples of innovation in engineering, design and manufacture. The traditional Royal Mail letterbox is a cherished feature of British streets, with one standing within half a mile of 98% of the country's population. In addition to serving an essential daily function, these bright red boxes are much beloved national treasures- some have even gone down as listed buildings.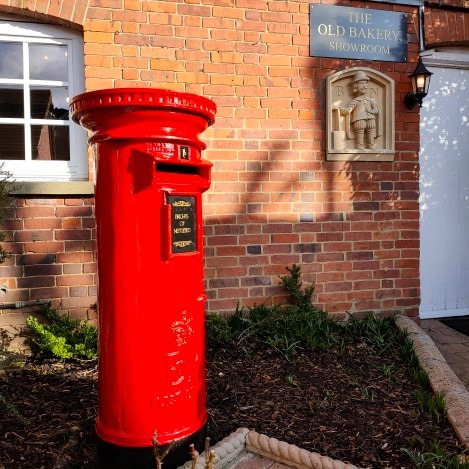 There are different types of letterboxes to be found on the streets of the UK, including wall boxes (installed into a wall with only the front of the box visible) and lamp boxes (attached to street lights or metal poles, found largely in rural areas). The version we have on display at our showrooms is the George VI Type B Pillar Box. Instantly identifiable for its cylindrical shape and glossy red colour, the design for the Type B pillar box can be traced as far back as 1879. In fact, the only real changes which have been made to this model in the past 140 years are increases in height and in the width of the postal slot.
Similarly, to the letterbox, the red telephone box has long been a truly iconic design synonymous with British culture and admired all around the world. The K2 kiosk has its origins in a 1924 national competition in which British architect Sir Giles Gilbert Scott submitted the winning design for the national phone booth. The booths were rolled out nationwide over the next two years and were a staple piece of street furniture from then on. Today, just over 200 examples of the original 1920s kiosks remain standing and these all have Grade II listed status by English Heritage.
Both Royal Mail red letterboxes and red K2 telephone boxes add significantly to the charm of any area in which they are found- from busy London streets to quaint rural villages. You could even use this cherished national antique to add character to your property- whether it is a home or business premises. Red letterboxes and phone boxes are also extremely popular as unique wedding day decorations and for other special events.
Get in touch with us today to discuss obtaining your own original Royal Mail post-box or KR telephone box. we can help you source these iconic artefacts based on your requirements, so give us a call and let us know what you?re looking for and which occasion or property it is for.