Thomas Hope Furniture: British Master Furniture Designers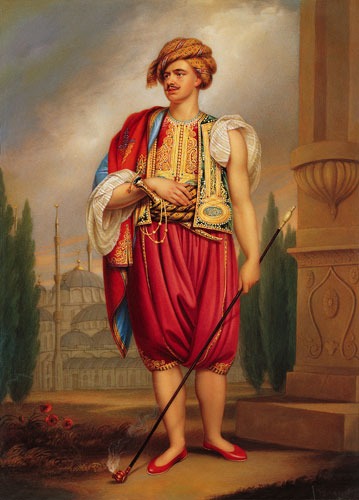 Thomas Hope (1769-1831) is one of history's most influential interior designers, collectors and furniture designers. As a reformer of tastes and design trends, Hope is considered to have defined the Regency style of decorative arts and interiors.
Born in Amsterdam, 1769 to an old Scottish family who, for many generations, had been one of Europe's wealthiest banking families, Thomas Hope inherited both a vast amount of wealth and a passion for the arts from his parents. He received the finest education before embarking on the world-famous Grand Tour at the age of 18.
The Inspiration Behind Thomas Hope's Furniture
The Grand Tour was a term used for a journey which many wealthy, highly-educated young men (and few women) embarked upon, during which they would travel across the Continent and, occasionally, further afield to view the great antiquities and masterpieces of art- often with their own artist in tow to capture the sights. Thomas Hope's Grand Tour took him through the Mediterranean, Asia and Africa and is believed to be the source of his lifelong passion for collecting classical art and design. Hope's interests along the Grand Tour mainly lay with architecture and sculpture and it was during this Tour that he acquired a breath-taking collection of artefacts- perhaps most notably, the Grand Dionysus. The collection that Thomas Hope accrued on his travels through distant lands would go on to be installed in his iconic Duchess Street home in central London. Hope's convention-breaking remodelling and interior decoration of this house would later come to define the Regency era of design.
Thomas Hope Furniture on Display
Hope purchased the house in Duchess Street in 1799 and remodelled the stately townhouse with a series of strictly themed rooms and sections, with unique furnishings and colourful decorations. The house was completed and opened with a grand party in 1802 with attendees including the Prince of Wales and British society's foremost artists, authors, scholars and architects.
The Duchess Street house included the Egyptian Room; considered one of the most inventive interiors to have ever been seen at the time, this space was filled with exotic furniture designed in an Egyptian manner by Thomas Hope, set against black and gold walls. Then there was the Statue Gallery; where Hope housed his most prized sculptures from antiquity, displayed with top-lighting and a coffered ceiling. The four Vase Rooms were where Hope displayed his vast collection of Greek figured vases, many of which were uncovered from tombs near Naples and other ancient Roman cities. Another inventive and highly colourful creation within the house was The Aurora Room, here, huge mirrors were set-up around a statue of Aurora and satin curtains were draped from ceiling to floor.
The entire design of the house was an expressive commitment of Hope's mission to transform contemporary British tastes. Although only a select few were invited to view the property in person, a wider audience was reached thanks to the publication of Hope's 1807 book Household Furniture and Interior Decoration. It was in this book that the term 'interior decoration' was first used.
The Duchess Street house wasn't Thomas Hope's only foray into ground-breaking interior design projects. After his marriage in 1807, he purchased a country manor in Surrey called The Deepdene, which was also entirely furnished in the new Regency style.
Thomas Hope Furniture Today
Thomas Hope's influence over the newly-coined 'interior design', continued long after his death in 1831. Thanks to the posthumous popularity of his book and the enduring appeal of his collected artefacts and designed items of furniture- many of which remain on display in museums such as Victoria and Albert to this day. The Regency Revival of the 20s and 30s launched a fresh wave of interest in Hope's works. Today, the novelty and exceptional quality of Thomas Hope's personally designed pieces of furniture command great admiration with collectors all around the world and they can be seen displayed in some of the finest homes.
Brights of Nettlebed has an exclusive collection of furniture designed in the manner of Thomas Hope. These exquisite pieces have been carefully handmade after the original designs housed in the company's private archive collection. The Thomas Hope furniture available at Brights of Nettlebed include display cabinets, desks and water-gilded torcheres.