Combining modern resources with traditional craftsmanship
published date: 5 December 2016
events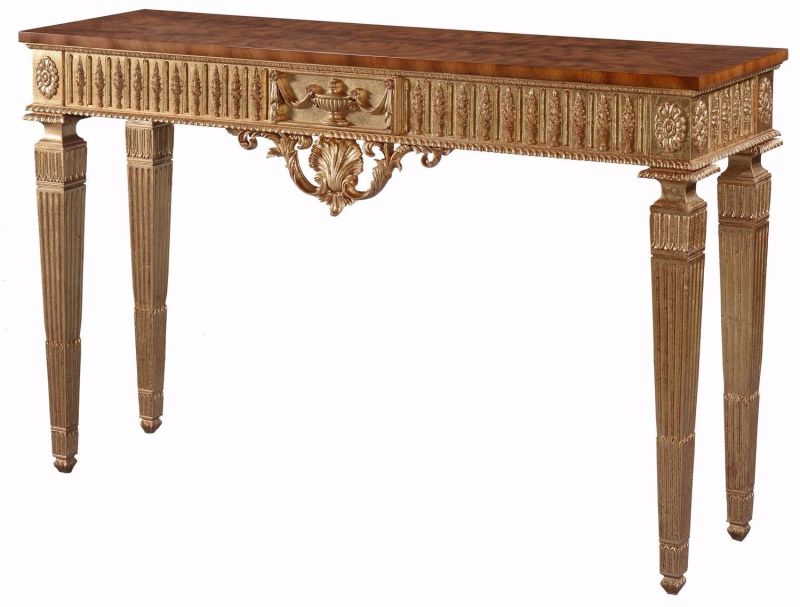 Brand new creations arrived today!
A cocktail of skills are required to recreate these exceptional pieces introduced to complement each other as a suite or look equally striking as a standalone piece.
Furniture design sketches of the 18th Century were usually produced but the finished article often ended up being quite different. Today, with the help of modern technology we can capture the essence of the design with refinements made by our skilled draughtsman. No detail is insignificant and the intricate hand carving of swags and tails and detail of the leaves on the mouldings takes time and discipline by our carvers to ensure each applied carving is consistent, before the process of gilding commences.
It would be usual for a marble top to be used on a gilded piece, however, the cerejeira surface with beautifully matched veneers can be polished to a warm finish compatible with most other timbers.
The unique features of the console table have been reflected in the giltwood coffee table and side table also available to complement this piece.
The collection is only available in a limited quantity due to the time-honoured, handcrafted method that is the true mark of high quality.
To be one of the first to view these exciting new designs in person, call to schedule a visit, or arrange a viewing in your home with our unrivalled home approval service. Call Nettlebed on 01491 641115, King's Road on 020 7610 9597.
Please view the gallery below for an insight to the skills involved to create these pieces.