Elizabeth Thompson (Lady Butler): 19th Century Painter

Being an artist was not a career that many considered appropriate, or even possible, for a woman in Victorian England which is why there are so few renowned female painters from this era. Elizabeth Thompson (1846-1933), however, was an exception. She rose to prominence painting epic historic scenes and successfully sold her portrayals of battles and wars to an international audience.
Born in Switzerland to English parents and raised in Italy before relocating to England, it was during her education at London's Royal Female School of Art that Thompson developed her passion for painting British military battle compositions. This would stand her in good stead as she went on to launch an illustrious career in this genre- with a penchant for the Napoleonic wars.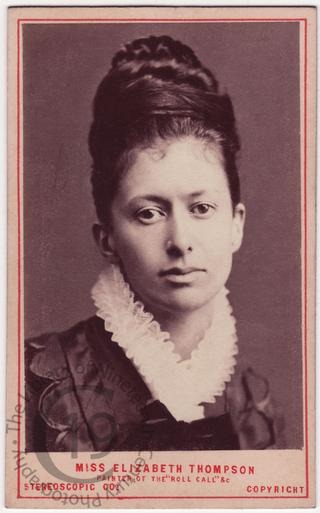 A Prominent Painter of Battles
Although deeply opposed to war itself, Elizabeth Thompson held, throughout her life, a strong admiration for the heroism of individual soldiers. Writing in her diary in 1866, she remarked: ?My own reading of war- that mysteriously inevitable recurrence throughout the sorrowful history of our world- is that it calls forth the noblest impulses of human nature?. One of the most prominent examples of Thompson?s ability to depict soldiers? nobility on the canvas is the 28th Regiment at Quatre Bras, a painting with a surprising connection to Henley-on-Thames.
The 28th Regiment at Quatre Bras was exhibited as one of the most popular highlights at London?s Royal Academy. According to the art historian and director of Australia?s National Portrait Gallery, Thompson ?achieved huge public success in 1875 for this great military action painting?.
As the title suggests, this painting depicts the British forces? 28th (North Gloucestershire) Regiment making a heroic stand at Quatre Bras in Belgium on June 16th, 1815, during the legendary Waterloo Campaign of the Hundred Days, just two days before the Battle of Waterloo. Thompson based her portrayal on Captain William Siborne?s account of the battle in his 1844 book, the History of the War in France and Belgium in 1815. The British famously held off attacks from the French cavalry by forming a defensive square in a field of rye. In her painting, Thompson captures the moment that the regiment formed the square in this field, at approximately 5pm, fending off lancers and cuirassiers led by Marshal of the Empire, Michel Ney.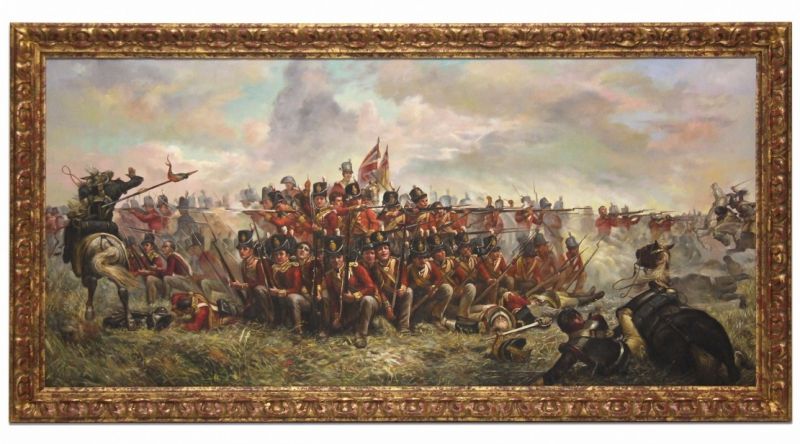 Art in Henley-on-Thames
Thompson was renowned for the extraordinarily thorough preparations she bought to her portrayals of iconic war campaigns. It was this meticulous accuracy that lead to her travelling to Henley-on-Thames with her mother in July 1874. As mentioned previously, the 28th Regiment fended off the French by forming a square in a field of rye, one which was noted as being unusually tall for June, so Thompson and her mother purchased part of a rye field in the Henley countryside in July. She went on to gather a large group of schoolchildren from the local area (whom she nicknamed the Pre-Raphaelite brethren) and had them trample down the rye, allowing her to accurately capture the aftermath on the scenery. This detail can clearly be seen in the foreground of the painting.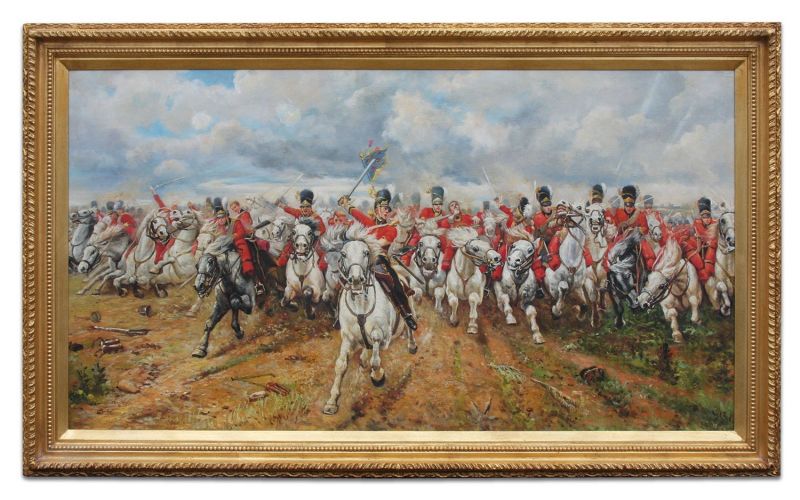 This wasn?t the only example of Elizabeth Thompson going to great lengths to recreate this stirring battle scene. The British army itself arranged for 300 members of the Royal Engineers to participate in posing for a full reconstruction of the moment whilst firing their rifles in the air for her to observe and capture. As if this wasn?t enough, Thompson also hired a musketry instructor to teach her how to load the flintlock ?Brown Bess? musket- the same one used by the 28th Regiment in 1815. She also had exact copies of the correct Waterloo uniform specially made for her by a government clothing factory in London. Plenty of horses were put through their paces to satisfy Thompson?s dedication to historical accuracy too! The artist observed the horses at both the Horse Guard?s Riding School and Sanger?s Circus in a variety of actions, enabling her to correctly portray Napoleon?s cavalry charge.
Today the painting hangs in the National Gallery of Victoria in Melbourne, Australia. A reproduction can be viewed in Nettlebed, near Henley-on-Thames (which holds a special place in the painting?s history) at the showrooms of Brights of Nettlebed.