How to Apply the Basics of Feng Shui to your Interior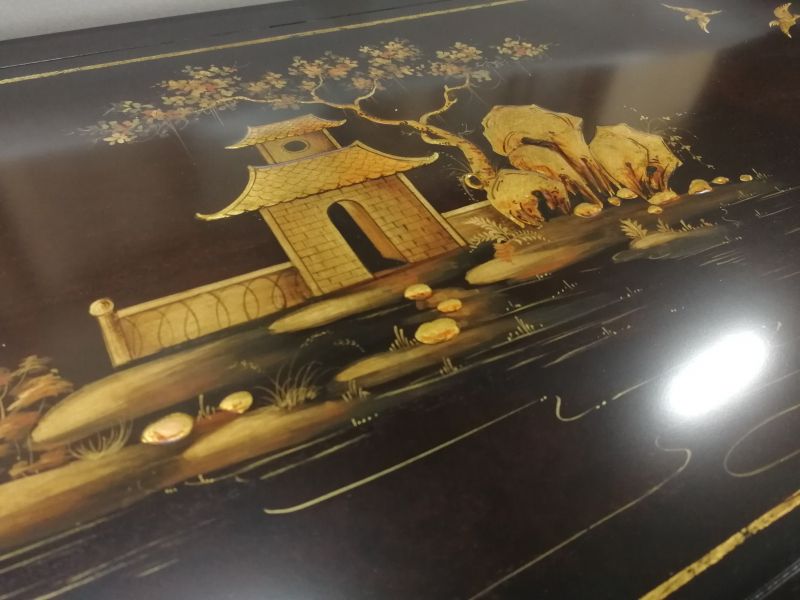 Feng Shui is an ancient art which dates back more than 6,000 years to the Chinese cultures of Yangshao and Hongshan. Far from being a simple interior style guide, Feng Shui is a complex system which employs elements of divination, geomancy, and astrology to help draw positive energy into a building, room or even to a single item of furniture.
The name reflects the influence of nature and the elements on peoples' balance and wellbeing; Feng means wind and Shui means water. In traditional Chinese belief, Qi or Chi is the unseen energy which flows through and nourishes all living things. At its core, Feng Shui is the practice of channelling and enhancing the Chi force, creating an environment for it to flow.
The Western world first encountered Feng Shui during the era of imperialism, when 19th century merchants and missionaries first travelled to East Asia and documented their cultural experiences through diaries and letters. Early contact with the practice was met with generally negative response as it conflicted with the conservative Christian philosophy most Europeans adhered to. Although the principles and concepts behind Feng Shui were rejected, the styles and imagery of eastern interior design were embraced by European high society, leading to a fashion for chinoiserie, silk upholstery and curved lines in furnishings and architecture.
Over the ensuing years, the ancient Chinese art of placement has burgeoned into a phenomenon all around the world. Today, thanks to the accessibility of resources, even those who are not dedicated practitioners can explore and adopt the basic principles of Feng Shui in order to make the Chi energy of their home or place of business more comfortable and conducive to their goals.
Arranging Interiors for Feng Shui
The most prominent concerns of interior Feng Shui are; room arrangement, flow of traffic, shape of furnishings and where the furniture is placed with correlation to doors, windows and cardinal directions.
Feng Shui Tips for Doors and Entrances
A Feng Shui floor plan will always put a great amount of focus on the main door of the property; auspicious symbolism and placement around a main door is an essential element for creating a fortuitous and harmonious environment. One of the easiest ways to enhance the positive Chi in any interior is to place a piece of art featuring an auspicious subject close to the door. Horses are considered to be some of the most auspicious subjects in paintings, good examples of paintings to hang by entryways include Brights of Nettlebed's Mares and Foals in a River Landscape and Bay Hunter by a Lake. Birds and flowers are also representative of good fortune, such as those depicted in the original oil paintings; Garden of Earthly Delights and British Landscape.
Another way to create a strong, auspicious entry space is by using a vividly coloured rug, especially one with beautiful artwork, as a focus point. Brights of Nettlebed's handwoven rugs such as the Garden of Paradise Silk Pile Carpet, Bakhtiari Nomad Design Kerman-Laver Tree of Life rugs would work wonderfully.
In addition to the floors and walls around a main entrance, Feng Shui also places a great deal of importance on what lies above the door. Ceilings with overhead beams are considered bad Feng Shui. Ceiling designs with sharp corners and harsh edges are also not recommended. The most consciously way to activate good Feng Shui on entryway ceiling is with a bright light, particularly a crystal chandelier such as those available at Brights of Nettlebed.
Feng Shui Decoration for the Living room
Among Feng Shui masters, the living room is generally agreed to be the best room in the home for enhancing Feng Shui features. This is the space in the house where homeowners relax, scape the stresses of the day and entertain guests. The living room is a good place to hang decorative mirror, such as one of Brights of Nettlebed's many ornately hand-carved giltwood mirrors. When hanging a mirror in the living space, the most important thing to note is what it reflects. Feng Shui principles discourage mirror placement which reflects staircases or doors, instead those which focus on areas of the room itself are most auspicious and create a comforting feeling of space.
When selecting art for the living area, Feng Shui calls for paintings which incorporate nature, happiness and fortune as opposed to those which present political statements or depict unhappiness. The most auspicious subjects to hang in this room of the house are landscapes, those which incorporate lakes, rivers and other bodies of water are best suited on north walls. Brights of Nettlebed's many 'marine and beach scene' paintings are ideally suited to this area. Mountainous landscapes are recommended for northern or easterly walls while fqmily portraits are best in the northwest.
The best chair when applying Feng Shui is one with a solid base and an encompassing back- the higher, the better. High backs and curved arm rests provide support and protection, literally and symbolically. Seating which stimulates a healthy Chi flow can be difficult to come by as less expensive, small chairs often don't follow the Feng Shui principles. Straight lines in furnishings are discouraged in Feng Shui and referred to as 'poison arrows.' Instead, rounded backs, substantial armrests and curved silhouettes are considered much more auspicious.
Brights of Nettlebed's new and exclusive collection of leather Chesterfields can be seen to adhere to many elements and principles of Feng Shui furnishing. These heavy, rounded and comfortably-cushioned sofas and armchairs have extremely strong backs and armrests, with soft, curved shapes which support and encircle the sitter in a protective manner. For anyone looking to improve the energy and atmosphere in their home, both aesthetically and to increase the feeling of comfort and security in the home, this is something to be considered when buying seating.
Continue to Create Good Feng Shui
These are just a few of the ways in which you can use Feng Shui to attract some positive Chi to your home or work space. By taking some or all of these principles onboard, you can achieve the correct balance for you; maximising your happiness and potential for success.