Reproduction Dining Tables

Reproduction Dining Tables
A good dining table should be at the heart of every home. It is a piece of furniture around which a family can live out the ups and downs of their lives together; a place where plans can be made, old memories relived and around which celebrations can take place. The reproduction dining table can be the setting for intimate dinners for two – at an anniversary for example, and can see the whole family come together, at Christmas or special birthdays.
Brights believe in the importance of Dining Tables, both formal and informal. We have an enormous variety of reproduction dining tables, and try to cater to the needs of all of our clients.

Our collection
Our smallest reproduction dining tables are probably Georgian or Victorian style Pembroke tables. These are tables with a drop leaf on either side, and are usually on casters ? they were often used to double up as bedside breakfast tables. Nowadays, this style of table is popular where space is at a premium: A couple can dine quite easily with the leaves down, and can accommodate up to four guests with the leaves extended.
A slightly more left field choice when considering a reproduction dining table is a round dining table. These are becoming more and more popular as they do not promote a ?head? of the table, and as such do not propagate traditional hegemonic notions of hierarchy. It is interesting to note that it is considered poor etiquette to put one?s elbows on the table as it cuts one?s neighbour out of the conversation. This is not the case as a round table, as everyone is arched round the central point. Traditionally, round tables have been difficult, as they do not expand and therefore can only be used for a regular number of settings. We do hold stock of reproduction Jupes dining tables however, which open like a camera shutter to increase in size.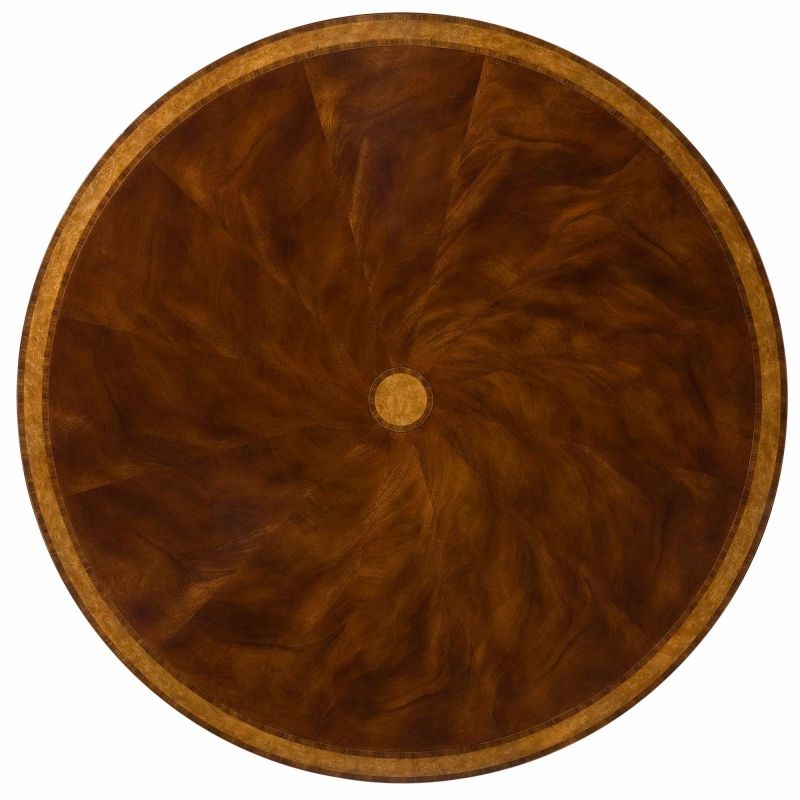 Every table entirely built by hand
We are proud to carry range of reproduction dining tables, which are based on traditional English antique designs. These come in circular options, as well as the hugely popular refectory style or trestle leg dining table. Every table is unique, and entirely built from hand from solid French oak or reclaimed architectural beams. We frequently embark on exciting bespoke dining table projects with our clients, and are always happy to discuss new ideas. We are also able to create more formal English antique style mahogany veneered dining tables. These are created at our workshops in England using techniques which have been passed down through generations. There are any number of options with these in terms of veneers and cross-banding, and we can even set up meetings with the craftsmen themselves to discuss the project at length. Like for like, the price for these dining tables is often equable to the pieces we have in stock; bespoke isn?t necessarily the financially terrifying experience people expect!