Oil Painting Commission UK
Brights of Nettlebed are associated with an art studio of several extremely talented artists, each having their own individual achievements and areas of speciality. We have the experience to assist in you in commissioning a reproduction or an original, painted by hand by an established artist.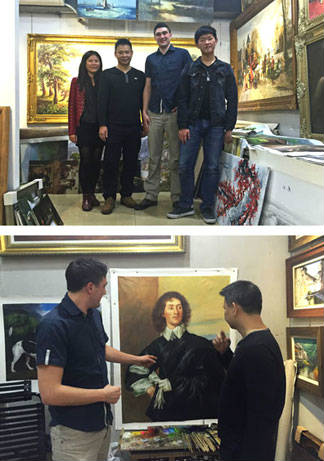 ---
Featured artist
Liu Yingjie is responsible for the majority of our commissions, specialising in portraits, landscapes and photograph based work. He was born in Quanzhou, Fujian Province of China in 1971 and had a particular fondness for painting throughout his childhood. After studying at the Fujian Academy of Fine Arts, Liu regularly participated in National and Provincial art exhibitions winning several awards with his paintings being purchased by Western collectors.
Yingjie has been involved as an artist for more than 20 years and is regarded as a master of colouration, tone and technique. In 1997 his creative painting Homeward was entered into the famous Return Of Hong Kong Youth Oil Painting Exhibition. In 2004 a creative oil painting named Village of Love won an award at the Fujian Art Exhibition. In 2008 Dream Home achieved an award of excellence at the Art Exhibition of National Art and Yingjie also joined the Shenzhen Art Association. In 2009 Yingie became a member of the Beijing Fengtai Fine Art Association and he is now a standing member of the Chinese Fine Arts Association.
Right - Henry Stamp, Director, with Mr Liu and his family and discussing a portrait painting commissioned for a client.
Above - Mr Liu working on several paintings which you will find in our oil painting GALLERY COLLECTION
---
Reproduction oil paintings
The reproduction of oil paintings is a popular field but quality varies hugely and is often carried out by training students. However, we will only use our established artists with the skill to reproduce master paintings in either oil on either canvas or oil on board to any size.
Below shows the original painting Canaletto hanging in the National Gallery (left) with our artist's interpretation to our commissioned size (right). Ageing effects have not been applied but varnish to discolour and/or crack the painting can be used if required.

---
Commissions of original oil paintings
We are able to turn a photograph or setting into a magnificient individual art work which can only be achieved through true artistic skill combined with our knowledge to assist you in achieving your desired result.
Below is an example from a series of four paintings commissioned to depict the classic era of speed. These particular paintings involved the research of original paint colours used on the cars and the types of material used for construction in the vicinity.
There is no reason to be restricted by a photograph – perhaps you have a studio family portrait which you would like translated to a scene in the countryside, or you would like your own vehicle painted in a particular setting. An original oil painting will capture an essence which photographs or digital canvas prints can never achieve.

Commission an oil painting in any size. We can supply as canvas only, or stretched and framed in your choice of moulding, which we can assist you with. Quotes are treated on an individual basis.
To view examples by our artists please visit THE GALLERY COLLECTION
Oil painting commission uk by Brights of Nettlebed